Rockers, "Aktion Kat!"  Dawn Their Feline Fursonas For Album Release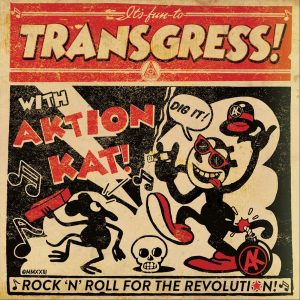 Memphis, TN — Aktion Kat!, the dynamic and socially conscious rock n roll band known for their comic book cats come to life, is set to release their eagerly awaited fifth album, "Transgress!", on September 9, 2023. This genre-blurring gem combines the band's rock, pop, country, and anti-Americana influences, for a listen that is fun and  spontaneous. While a musical departure, 'Transgress!' doesn't neglect any of the catchy hooks, fearless instrumentation, nor  the Kat costumes synonymous with Aktion Kat!
"Transgress!" features 9 original songs that span themes from socioeconomic critique to personal introspection. Notable tracks include "Beyond Your Reach," a poignant ode to sisyphean self-discovery, and "Forget Me," a melancholic reflection on life's challenges. There's even a nod to the leftist roots of the Spaghetti Western, with the Morriconesque, "The Arrow Returns."
To celebrate the album's release, Aktion Kat! will captivate audiences with a rare live performance—in full kat costume—at Murphy's Pub, in Memphis, TN, on Saturday, September 23, 2023, from 9 PM to 11 PM. Admission is $5 at the door, promising a night filled with musical prowess. The event will showcase tracks from "Transgress!" alongside cherished AK classics. Enthusiasts can enjoy the complete experience for just $10 (covers the show and includes an exclusive "Transgress!" CD).
"We're excited to release [ 'Transgress!'] and had a blast experimenting with each track [meow]. I—it's an album that is about the past, it's about the future, but most importantly it's about damn time!," shares Aktion Kat!, lead vocalist and guitarist, (as well as the cartoon mascot for the band.) "Join us at Murphy's Pub for an unforgettable night of music and camaraderie."
Stay connected to Aktion Kat!'s journey by visiting aktionkat.com and following them on facebook, instagram
Event: Album Release Show: Aktion Kat! – "Transgress!" Date: Saturday, September 23, 2023 Time: 9:00 PM – 11:00 PM Venue: Murphy's Pub, [Venue Address] Admission: $5 (Live Show) | $10 (Live Show + "Transgress!" CD)
About Aktion Kat!
Aktion Kat! is a politically conscious rock band, embodying feline personas, celebrated for their theatrical, artful approach to rock music with costumed performances, and comic book lore, electrifying performances and irreverent songwriting. With a commitment to impactful lyrics and dynamic melodies, the band has cultivated a dedicated following in Memphis, TN, and beyond.
Buy the album on bandcamp, and Stream "Transgress!" on All Major Platforms from September 9, 2023.